This past weekend we went to the WalkerStalker Con event in Atlanta Georgia. As we promised we are here to tell you about what we thought of the event, what we did while there, and if we would consider going again in the future.
We arrived early Friday afternoon. We hadn't really planned on doing anything event wise Friday, but after thinking it over, and since we hadn't been to this event before, that scoping out the arena might be a good idea before we dive into uncharted waters. so around five that afternoon we headed out to the event. It was pretty dead there since most people planned on being there for Saturday and Sunday so we didn't have any trouble or wait getting into the venue. As far as I can remember no real events had been scheduled for that day (I think there was maybe a few panels for some of the not well known actors). We mainly just walked around, shopped, and planned for what we would be doing the following day. Basically Friday was our chill day and it was nice being able to take our time and just wander. We also got to spend a lot of time in the hotel, which was amazing. Our room had an incredible view of Centennial Park and the big ferris wheel.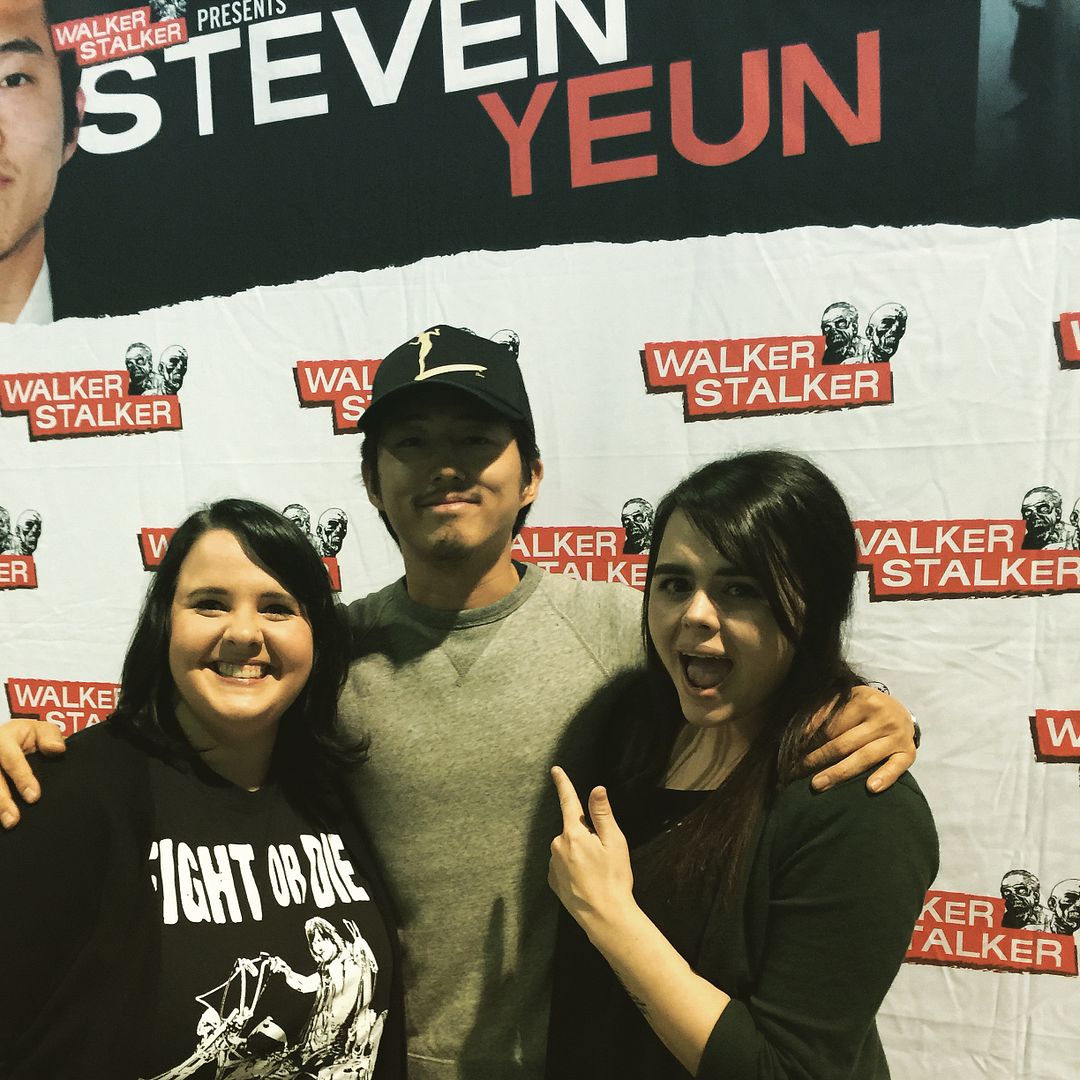 Saturday is where things really kicked off for us. We woke up super early and headed to the event (think we got there around nine and doors were opened at 10). The line to get in was INSANE! Thankfully everything line wise was pretty organized an we got in in no time at all. Once we were in we originally didn't plan on going to any cast member signings but... as soon as we saw Steven Yeun (Glenn) we changed our minds. We both automatically agreed that had to get into his line and meet him. Such a great idea too. We got there at the perfect time. We had to wait under a hour to met him which was freaking amazing because after we got through the line was freaking massive. We got to take pictures with him along with getting things signed. The silly thing was we had to sign and agree that we wouldn't ask hi questions about the previous episode or questions about future seasons. The only other people we considered meeting were Norman Reedus (Daryl Dixon) or Danai Gurira (Michonne), we decided against it because the wait for these two went on for days.
After that we went to a panel where they talked with Eulyn Womble the costumer designer for the show. This was something we randomly decided to go to and I'm really glad we did. It was so interesting. It was fun hearing about how much detail and work she puts into everything. She revealed all these little clothing items we'd never noticed before. Noticing how these thing little things had such an impact on the show was really great.
Later that day we went back to our room and changed into our costumes. We were just going to hang around our hotel and wait for the after-party that night, but ended up back at the event. We went as the slaughter version of the evil Grady twins from
The Shining
. Our costumes were a huge hit and came out great! We got stopped dozens of times for pictures and for people to talk to us about them. Think people really liked that we went as something that wasn't
TWD
related. We ended up entering a costume contest (we didn't win however... Thanks baby Eugene!). That night we continued in costume to the con after-party... This was probably the biggest let down of our weekend. Orgianlly it was suppose to be held on the set of Terminus, but for copyright reasons fell through and ended up being held in the hotel ballroom. It was SO jammed packed! You could barely walk around or even breathe. Plus the event slowly got weirder and weirder (not in a good way either) and we both ended up leaving around midnight after the pole dancers and hula hoop girls showed up on stage.
On Sunday we again got up early and headed to the only event we got tickets for which was the Andrew Lincoln panel. This was both of our favorite event of the weekend. The panel ended up having a special guest appearance too, David Morrissey (The Governor). This panel was freaking hilarious. They both shared stories of things that have happened on set, moments from the show, their favorite part of being on the show, and tons more. I think what made us like this panel so much was that they didn't wait till the very end of it to ask questions. They weaved audiences questions through-out and it actually added to the interest level. The flow of the conversation and the stories that they told really gave a lot of insight to each actor. At first I (Leah) was disappointed to see that The Governor was the surprise guest because I didn't like his character at all, but by the end I was really glad he was there. I loved how he and Andrew Lincoln played off of each other and off of their IRL friendship. While The Governor still isn't my favorite character from the show (to say the least!), I have a new found respect and like towards the actor! After that we did a few more laps around the event floor and then headed out.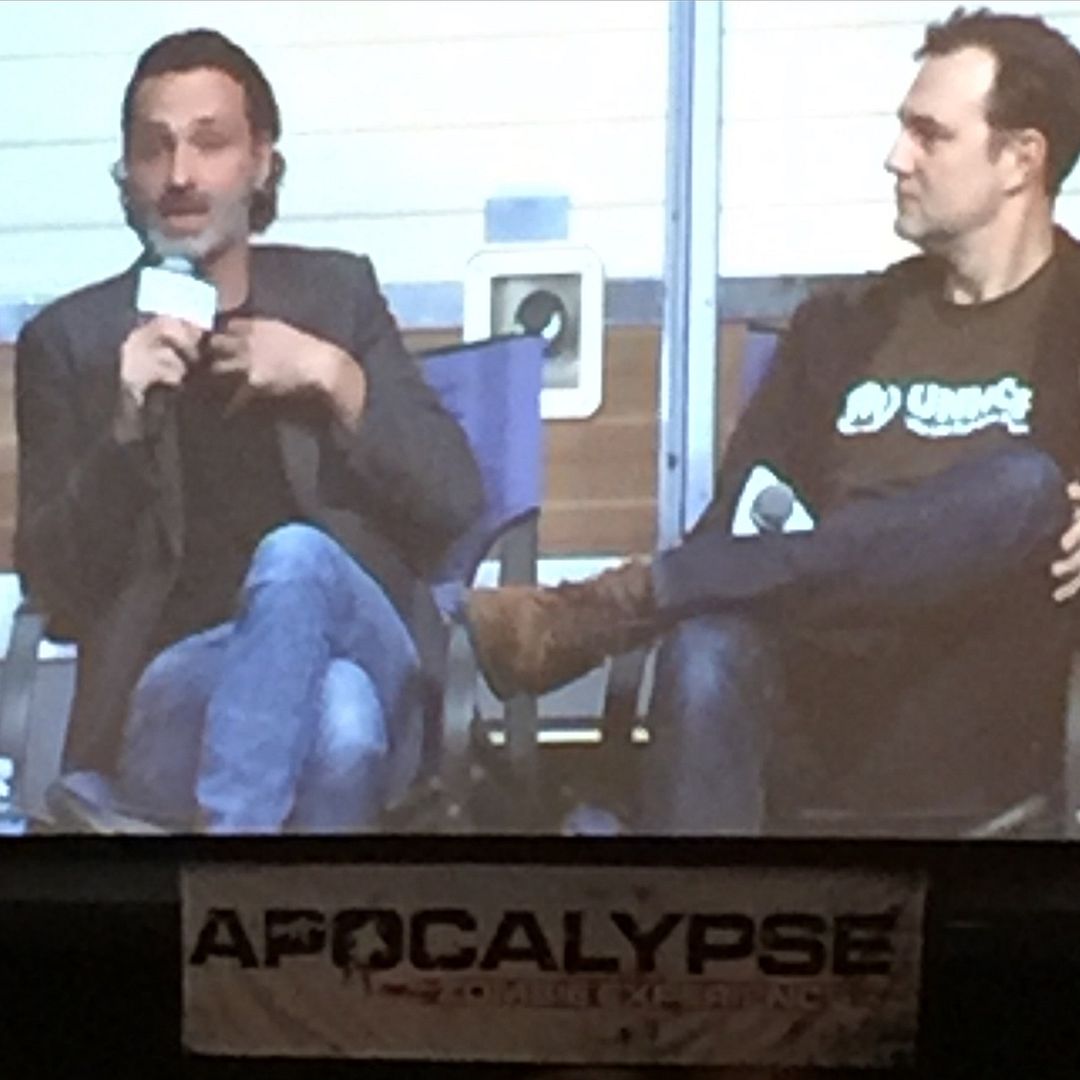 Pros:
-Vast amount of cast members to meet.
-Overall pretty organized.
-Tons of merchandise to buy most at a reasonable price.
-Venue was in an excellent location and pretty all inclusive as far as being able to find parking and food.
-Plenty of events to attend within.
-So many amazing costumes to see.
-Tons of places to get your own makeup done.
Cons:
-General admission doesn't cover anything so it can get very very expensive.
-Meet and greets are expensive.
-After-party crowded and not like what was explained (seriously, unless you are single and on the prowl or want to get wasted on the $10 cocktails, this probably isn't for you)
If we do go again we will splurge and get the VIP tickets, they might seem pricey but they do pay for themselves with the benefits. While it was pretty fun overall, I think we found that we enjoy book centered cons (shocker, I know) more because they target our interest more. If you are a die-hard
TWD
fan and want to get weird with other die-hards, then this is your place.
xoxo
- Angela & Leah