So as y'all might know we went to BookCon in New York this year and... Well it was amazing! We pretty much got to do everything we set out too. We decided pretty early on that we wanted to do both Saturday and Sunday. We planned and planned and tried to factor in every little detail even though we really didn't know what we were getting ourselves into. This was our first BIG con, and it really is on a whole new level of fandom craziness.
SATURDAY
We got up SUPER early that morning with our book bags packed, schedules in had, and tickets around our neck. We hoofed it to the subway and then walked a million miles (rookie movie #1) since we were staying in Brooklyn and figured cab fare would been really expensive. We learned VERY quickly that dropping $$$ on a cab or Uber ride is one of those absolute necessities and something that will be forevermore added into future budgeting.
So we get to the Javitis Center around 6:45 and there were already 100+ people lined up. We were super lucky to get there so early, because the closer it got to the doors opening (8AM), the more people that were in line. HUNDREDS and HUNDREDS of people were in line behind us. It was absolutely insane. When the doors opened, it was a mad dash into the center down the stairs and into the Queue hall where they had set up lines to get wristbands for each panel throughout the day and also to line up to enter the floor of the showroom (which opened at 10). We immediately jumped in line for the Paper Towns panel featuring John Green, Nat Wolff, Justice Smith, and others. We waited for an hour and a half in that line before we finally received our wristbands, but we got them!!
The next things on our list were dropping by JD Netto's booth because he was doing an AWESOME special for both of his books SIGNED plus a tote bag full of swag. We stopped by his line and visited a bunch of the big publishers that had booths set up. After browsing around for a while and picking up tons of swag, we knew we needed to hoof it back downstairs and jump in line for the autographing of Colleen Hoover, Abbi Glines, and KA Turner. On our way downstairs we decided a pit stop was in order... and as we are walking in the bathroom COLLEEN FREAKING HOOVER IS WALKING OUT. We both have deer in the headlights looks on our face as we super awkwardly/super awesomely meet our favorite author CoHo outside of the ladies restroom. She was SO nice and everything we hoped she would be. After freaking out and nearly losing our minds, we head downstairs and jump in line for her autograph. We waited in that line for about an hour and a half. Luckily we were near the front of the line and got their super early, because it filled up fast. Meeting both Coho and Abbi was amazing! They were both super sweet and it was a dream come true finally getting to met them. Abbi Glines had actor Addam Bramich with her. If you don't know he is set to star in her movie While it Lasts... and of course I (Angela) again embarrassed myself in classic fashion by saying sup and giving him gun fingers!!! Like what they heck does that even mean???!
Sabaa Tahir's signing was immediately after CoHo's so we jumped right back in line to wait. We had about another hour and a half of waiting before Tahir's signing, but it was worth it because we were once again near the front of the line. We were starving and near death at this point since all we had eaten so far that day were a few Clif bars, water, and some nuts. We were definitely running solely on Fan Girl fumes at that point
but it was absolutely worth it. While we were waiting for Tahir's signing, Jennifer Eaton was signing upstairs, so Angela went up to meet her and buy her books while Leah waited and held our places in line for Tahir. Finally we got to meet Sabaa Tahir and she was amazing. She signed our books and she even asked us to sign one of her books so she had a souvenir from her time at BookCon. Such a cool idea. Her signature is super BA. She incorporates the mask used in Ember in it. Super unique.
After Tahir's signing, we decided we needed to go ahead and jump in line for the Paper Towns panel, which was already starting to line up. Even though we had wristbands that guaranteed an entry, seats were first come first serve so we needed to get there super early to make sure we got good seats. We got in line around 3 and waited for the panel to start at 6. Getting there so early was the best choice all day, because we were definitely in the first 50 or so people. Everyone was sitting on the ground and just resting since it had been such a long day. Leah went and got us some real food from one of the concession stands while we waited and then we took turns running upstairs to meet Abi & Missy and get their book Hunted which is the sequel to the book Branded. So awesome!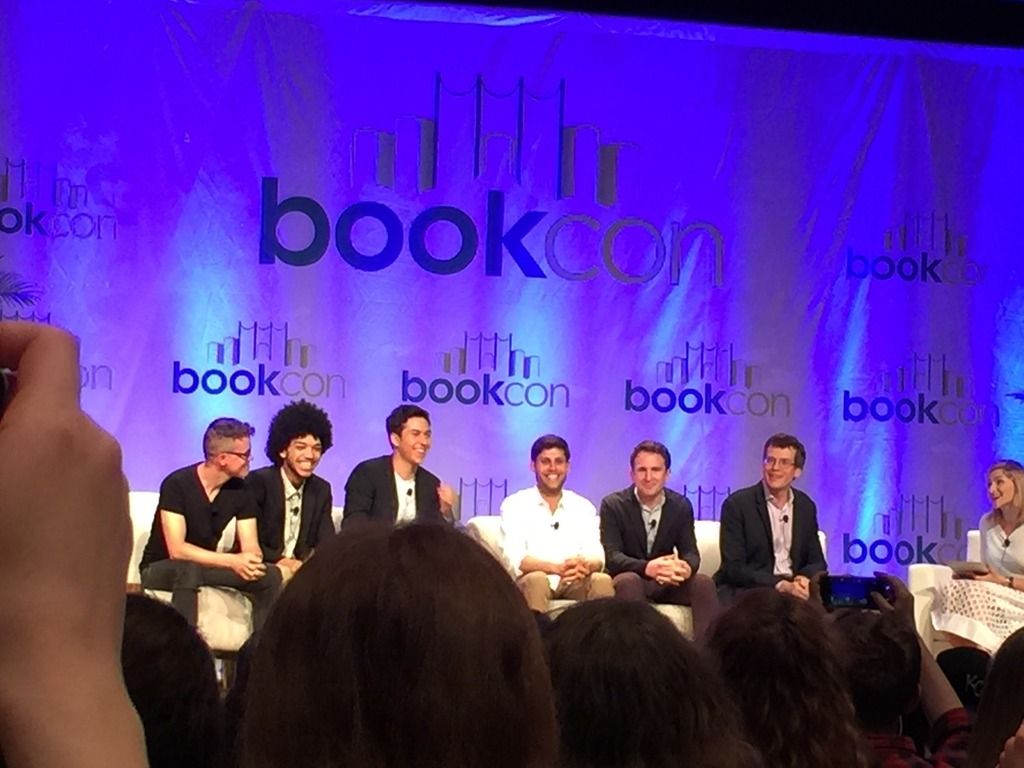 After waiting in line for the three hours, we finally were able to start entering the Special Events Hall were Paper Towns was being held. It was a mad rush by everyone in line and it got a little crazy for a bit. We ended up with AWESOME seats. The panel was definitely the highlight of the day. John Green is hilarious and everything that comes out of his mouth is gold. Seeing some of the cast and some of the other crew members that work behind the scenes was amazing. They even had the composure for the soundtrack there! Which we both thought was such a great idea and brought something new and different to their panel. We were shown and exclusive scene and trailer for Paper Towns which hasn't yet been released. IT WAS AMAZING. We are SO pumped to see the movie, even more so than before!! We decided to go ahead and dip out and head home after that because we were dead on our feet. We didn't even eat dinner and were passed out by 9:30.
SUNDAY
We knew this day was going to be a lot more chill because we accomplished most of our big goals the day before. The only thing we really wanted to do was go to the Sarah J. Maas signing, but by the time we got to the center, her line was already at capacity (we seriously missed it by like 2 minutes). It was a bummer, but we weren't too upset since we got to meet her last year at YALLFest and hopefully we get to meet her again this year. We spent nearly the entire day walking around the show floor and we picked up SO much swag. Whoever said that you don't get a lot of free books and swag at BookCon (versus going to BEA) wasn't doing life right. We got SO many books on Sunday. One of the coolest parts of the day was attending the Swoon Reads Party where we got to meet Sandy Hall and Temple West. Leah won an ARC of a book published by Swoon reads that is coming out in August! We also got tshirts, notebooks, and signed swag from Sandy and Temple.
Last year when we were at YALLFest, we kept seeing people walking around it Throne of Glass tote bags that had the character names on it. We wanted them SO bad, but the people said they received them at BEA last year. Guess what guys. WE GOT THE BAGS. We waited in line and WE GOT THE DANG TOTE BAGS!!! This was one of our Holy Grail items and we even got a TON of super cool Throne of Glass themed buttons (they seriously gave us like fifty Heir of Fire buttons). The rest of the day was spent just hanging out around the show floor and basically getting fr
ee stuff. We got SO many free books (including several ARCs and THREE copies of Outlander with the new cover featuring the cast members from the TV show (don't worry-- we have LOTS of giveaways planned for the future). We even got these killer Shadow Hunter tote bags that Angela nearly had a heart attack over. They were given away in super limited quantities, but we got them plus a sample of Cassie Clare's new book Lady Midnight and an amazing TMI poster!! Sunday turned out to be way more than we expected it to be. We were able to chill and actually eat lunch like normal people and take our time walking around and got SO much stuff. It was amazing
We ended up leaving BC around 3pm because we had accomplished everything we had wanted to accomplish. Our flight was supposed to leave later that night so we wanted to get back and pack all of our swag. We ended up going through this huge fiasco at the airport because of really bad weather, but we will spare y'all of those details.
All in all, we had an amazing time. BookCon was so much more than we expected and we can't wait to go to CHICAGO next year for it!!! If you are able, this is definitely a con you want to save up for and try to attend. Yes, it is still a relatively young con and there are still some kinks to be worked out, but it was an amazing experience. One of the biggest things that irritated us while we were there was whole much people were complaining about having to wait in line so long. Guys, you HAVE to understand that when you go to a con of ANY kind (BookCon, ComicCon, Walker Stalker Con, etc.) you are going to be waiting in line for the majority of the time. It's just the nature of the beast. You just have to make the best of the time you are given and really what an amazing opportunity you have to meet these authors and receive such exclusive swag. It is definitely one of the biggest high lights of our year!
Pros:
Arcs and early releases
Free Bookish items
A verity of authors
Unique panels
Tickets are reasonably priced
Meeting with authors
Tons of publishing booths
The book that did cost money weren't expensive at all
The line though long were organized
Everyone who get in line for panels will get a wrist band
Cons:
Opening ran behind schedule
The Word Bookstore was a hotmess (this is where you buy books for authors who require a purchase with their signing)
At the start of the day things were a little unorganized, but did get better as the day went
You only get a very limited time to met the authors
Food is expensive
We highly recommend wearing comfortable shoes, and if you don't have patience for waiting in ling then this probably isn't the event for you.